An HVAC, Electrical, and Facilities Management Leader Serving Philadelphia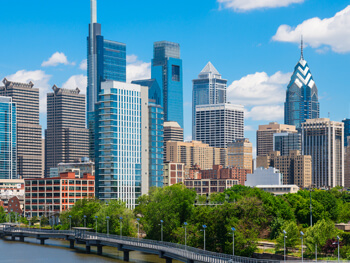 Since EMCOR Services Fluidics was founded in 1968, much has changed in the mechanical contracting industry—HVAC units are more efficient, control systems are more sophisticated, and mechanical technology is more advanced than ever.
Fluidics has adapted to these changes, proactively expanding our services to meet the complex needs of modern business operations while acquiring some of the most technologically advanced resources available to meet the growing needs of our customers.
One thing that hasn't changed is our commitment to providing quality mechanical and electrical equipment installations. Our consistently high-quality work and leading-edge technology has made Fluidics one of the largest, most successful mechanical service and HVAC contractors in the Philadelphia area.
As an industry leader, Fluidics' retrofit division lives up to our reputation for superior performance through our continued commitment to provide quality mechanical and electrical equipment installations and retrofits in a timely, cost-effective manner. No matter the size or complexity of the project, our team will work side-by-side with your team to ensure the highest quality results.
Our mobile services will respond quickly when you need them, and our facility operations teams will ensure your commercial, mechanical, and electrical systems run smoothly and efficiently.
From building operations system maintenance and plumbing repair, to on-site facility operations contracting, we have you covered. What's more, because we place top priority on workplace safety, we have earned a safety record ranking above the 400 largest mechanical construction firms in the country.