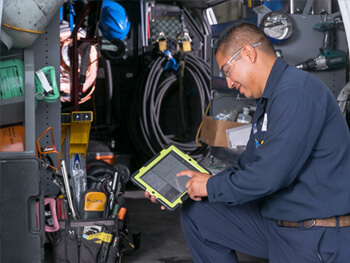 Whether it's an emergency call in the middle of the night, or scheduled preventive maintenance, our mobile services are available 24 hours a day, 365 days a year.
We utilize leading-edge communications, computerized dispatch operations, and web-based work order management to help ensure our customers' needs are always met.
Thorough, Smart, and Responsive Service
Our mobile service professionals keep detailed equipment lists and service histories for all our customers, which makes it easier for our technicians to assist in diagnosing and resolving problems while the mechanic is on site. All information is available to the client, thus providing an invaluable management tool for building owners and managers.
Through creative "partnering" arrangements, we can assign a team of mechanics to work exclusively for one customer and their maintenance staff, thus ensuring the portfolio will continue to run smoothly.
Full Range of Preventive Maintenance Services
Our mobile services also encompass regular facilities preventive maintenance on our customers' equipment. From simple inspection to full parts and labor, we offer maintenance contracts for a variety of facilities and equipment types, such as:
Scheduled inspections tailored to your system and business requirements
Testing and replacement of air filters, belts, cleaners, oil filters, and lubricants
Up-to-date maintenance recordkeeping, including combustion efficiency reports, technician recommendations, refrigerant usage, and more
Professional engineering assistance
Complete and accurate repair quotes
Preferred customer service 24/7/365
Contact us today to find out how our preventive maintenance services can help keep your business running smoothly.