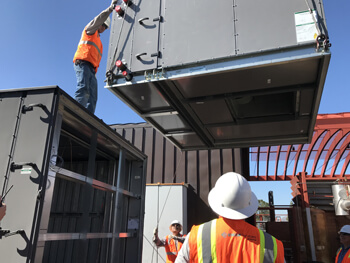 EMCOR Services Fluidics' skilled tradesmen can handle any type of mechanical, HVAC, or plumbing repair or replacement.
Whatever your retrofit project requires, we can manage it.
Our team of steamfitters, electricians, sheet metal mechanics, plumbers, and energy management professionals are fully equipped and ready to handle both emergency and planned retrofit projects.
Prepared for Challenges Big and Small
Our retrofit team can mobilize quickly, providing swift resolution even in crisis situations. We can take on challenging rigging tasks and time-sensitive equipment placements, even employing cranes and helicopter lifts when necessary.
We've handled several unique projects, including the design and installation of ice rink piping and flooring for private and public recreation centers. Through our engineering and project management teams, we can also assist in the design, planning, and execution of larger projects lasting several months.
Save Energy Through Retrofits
Retrofitting your buildings with improved technologies and systems can help you maximize efficiency, reduce energy consumption, and increase sustainability. To help you realize these benefits, our engineers provide energy audits and assessments used for energy conservation programs and performance contracting. And, we have the experience necessary to help you find creative ways to finance your retrofit projects with the energy savings generated by these improvements.
Contact us today to find out more about our HVAC and energy retrofit services.